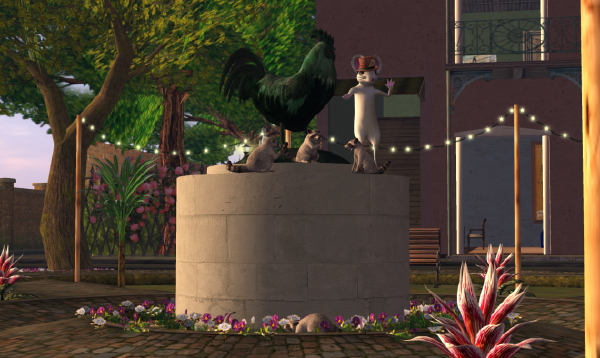 Late afternoon Wednesday the Big Cheese held a rally at Laveau Square, accompanied by a number of raccoons. The exact number of raccoons was impossible to determine, as they were in constant motion. I saw perhaps twenty, but people are saying there were hundreds.
The Big Cheese delivered an animated speech, at times gesticulating wildly to emphasize a point. But since no word was spoken, it is hard to say precisely what was the content of the speech. One presumes that somewhere in there was the traditional exhortation, by Carnival royalty, to attend the parade given in their honor (Samedi Gras, this Saturday) and to engage in general revelry of the season.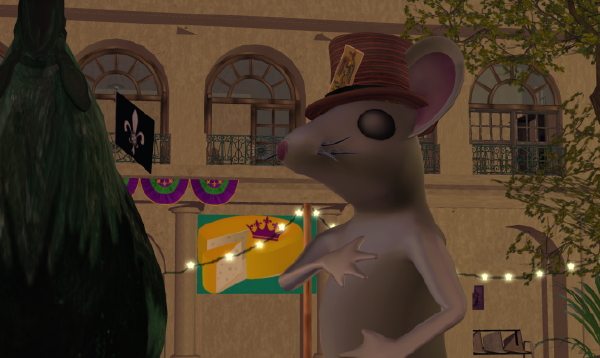 The raccoons cheered frequently and at times seemed to be chanting. I spotted Green-Eyed Fairy proprietress Francesca Alva nearby and decided to head to her refined establishment after the rally.
Miss Alva, who speaks Raccoon, told me that the raccoons are planning to take over New Toulouse. "They're going to choose me as their queen," she said. Just in case, I hurriedly paid my bar tab (leaving a nice tip, of course) and then went around town loosening trash can lids. Never let it be said that I failed to assist our possible new overlords.
---
Jack Mondieu plans to stop short of obtaining two black eyes in order to better fit in.