One morning, from the balcony over my cafe at la Coquette, I spotted something new across the street. My curiosity became so strong that I had to take my coffee with me for a stroll. On Shotgun Row, we seem to have a sweet, slightly creepy toy museum.
Belina's Little Toy Box Museum seemed totally invaded by mice when I peeked in. They live in the dollhouses and on the shelves. Adorable rag dolls are sitting around, watching them intensely. Outside in the garden, several happy little bunnies hopped around.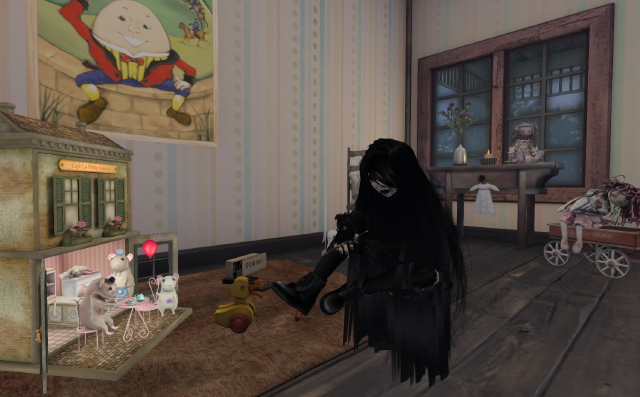 I really love the garden here. To sit outside on the veranda, feeling the wind in your hair and watching the lovely tree's leaves swaying reminds you that it's a good day to be alive (or undead, depending on your preference).
Visiting the toy museum made me think of another place here in the city. In Gloryville, right across from the St. Louis Cemetery, there is a dime museum called Professor Inglewood's Grand Observatorium. The sign outside says, "No children or unaccompanied women" and "Not for the faint of heart!"
Of course this means I can't share any photographs from inside, but I'm fascinated by the preserved mermaid and all the other strange mummies here. On the walls you'll find ghost photographs, drawings of dissected bodies, and other interesting stuff. I don't think I've ever seen so many skeletons and skulls in the same place. Indeed, it's a nice place to go before bedtime to conjure those special cozy, scary dreams.
---
The Ghost of Liza Veliz fell in love with New Toulouse at first sight. She publishes books by various authors; find them at her reading cafe on Shotgun Row. She also operates a tattoo parlor in Gloryville, at the corner of Royale and Rossignol.