When Celestina Navarre arrived in New Toulouse, she couldn't have known that she would become the most celebrated soothsayer in the parish. Or maybe she did know. All bets are off when it comes to fortune tellers.
Madame Celestina, as she is known to her many satisfied patrons, was part of a traveling carnival but jumped ship to set down roots in New Tou, in what was to be the most heinous mixed metaphor in Tattler history. She soon built up a large and varied clientele that ran the gamut from housewives and underpaid journalists to moneyed landowners and the holders of the highest offices of city government. Now these patrons are upset because she can no longer offer her acclaimed tarot card readings. Why? Her special cards are missing.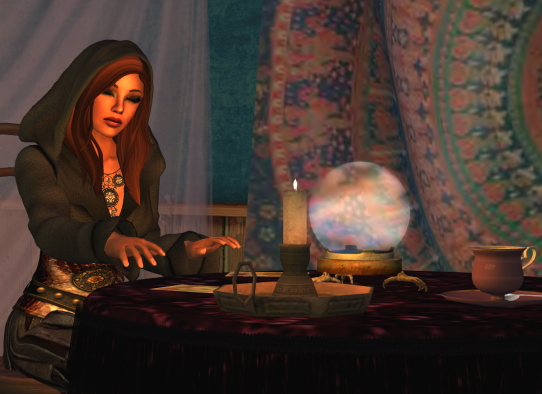 You would think that a seer would be able to find her own lost property, but apparently that's not how it works. It seems that this is akin to losing one's eyeglasses: Without her cards, poor Celestina cannot see any farther than you or I can.
If her cards are so important to her, how did she come to misplace them? When asked, Madame Celestina said that she discovered the cards' absence right after the leader of the Goat Gang had asked for a reading. She hinted darkly at a connection between the two incidents but did not outright accuse the gangsters of stealing her cards. This reporter tried to get her to divulge the identity of the mysterious Goat Gang leader, but she demurred, citing professional confidentiality.
A coalition of Madame Celestina's clients is offering a reward for the return of her tarot cards to their rightful owner. Without her insight into their lives, they say, it is harder to make important decisions. For more information about this effort, citizens are urged to visit Madame Celestina's place of business, located at #8 Bayou Street (rear entrance).
---
Jack Mondieu hopes for the return of Madame Celestina's cards, because he can't recall where he left his best pair of trousers.